By Suzanne Oden
In 2010, I went to Rionchogu, Kenya, and participated in a women's seminar led by a visiting nurse from the Regional Governmental Health Department.  It was attended by a large group of girls and women across a large span of ages from the local village and even some surrounding villages.
I was already aware of the issue of "period poverty" by the time I made the decision to travel to a rural African village. I was aware of the devastating effect it had on the lives of the women in the group. But I was especially focused on its destruction of the educational possibilities and lost potential for so many of the girls in the village. Those beautiful, happy little faces, full of so much joy and hope, just entering the tender age of puberty with all of its uncertainties and possibilities.
The fact that that the presence, or the lack of, such a basic need as sanitary pads could so change the trajectory of the lives of not just these, but of so many girls was, and is, unfathomable to me.  How is it that a girl is deprived the privilege of an education, something that so many of us take for granted, just because she has a period but doesn't have access to something so simple and basic, something that so many of us take for granted, as a menstrual pad?
I decided at some point, in my naïveté, that I would "make a difference," or a statement, in some small way.  So before I left for Kenya, I collected pads from my friends and my church, and I visited my local drug store, and I brought as many pads as I could stuff into my many bags. (Since I'm an over-packer, I had room for a lot.) 
As I look back now, I can only smile when I imagine my suitcase going through the many customary x-rays and examinations that are required when traveling to any international destination (but especially Africa) and what the (mostly male) customs agents must have been thinking when they encountered all of that evidence of womanhood.
Also, I grimace a bit when I think about how insignificant, what a little drop in the bucket, my contribution was compared to the massive problem of period poverty faced by so many girls and women in the world today.
As part of the seminar in the village, I gave a talk on personal hygiene and presented my pads. I had props and everything.  I asked the girls what they used during "that time of the month."  There were a lot of twitters from the audience, but a few bold girls stood up and provided an eye-opening answer.   They use t-shirts and other articles of clothing.  Or if they don't have "extra" clothing, another option is a mixture of grass and mud.
Now, I like my clothes and I don't have a shortage of options when addressing what to wear for almost any occasion. Still, I'm pretty sure that I went out shopping and bought some new clothes to wear on my first excursion to Africa.  When I heard this answer, I tried to picture myself going into my closet and pulling out a favorite blouse and hoping that it would be substantial enough to get me through the day. And what about the next five to seven days? How many favorites do I have to "sacrifice" for the cause?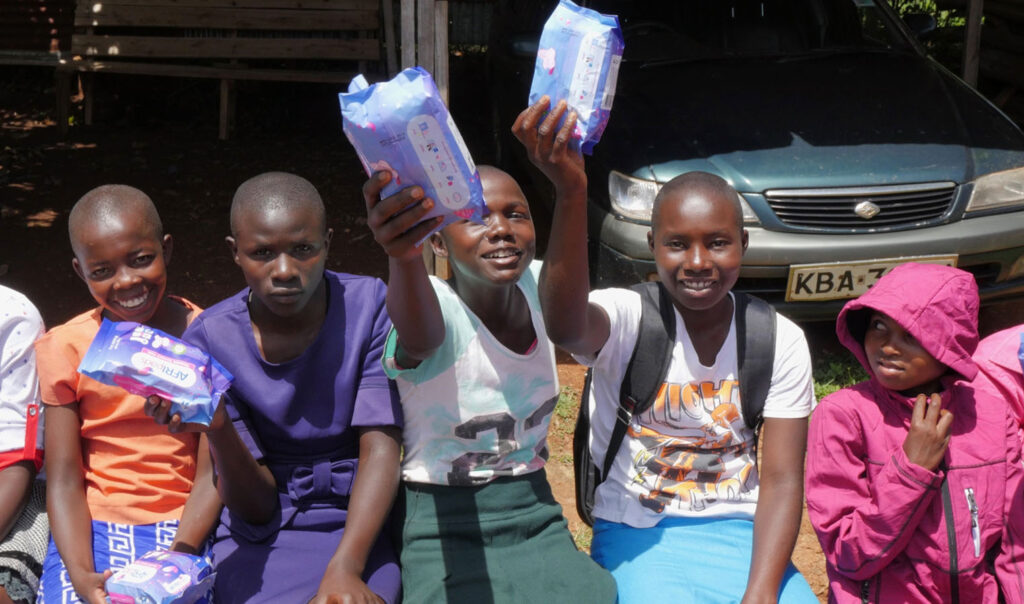 Fast forward to 2019.  It has been almost 10 years since that first trip to Kenya, and a lot has happened in that time … in my life and the lives of the villagers. We have learned so much, found new perspectives, built life-long friendships … and we have been forever changed.
But period poverty goes on, as ever before.  Our knowledge and perspective has changed and matured, but the issues and the daily consequences of period poverty on the lives of those girls and women has not changed so much. The girls that I faced so many years ago are now grown women, with many years of period poverty behind them.  And a whole new crop of fresh-faced, hopeful young girls are in the audience before me, with many years of period poverty before them.
In 2019, I am now a member of the board of Go and Do Likewise, and we came to Kenya with a new approach and a new partner.  AFRIpads are reusable sanitary pads that have been provided to over 3.5 million women in 30 countries, offering a "sustainable solution for managing their periods."
This year we hosted an AFRIpads seminar in the village that was attended by around 200 women and girls.  Lydia, who came from the Nairobi branch of AFRIpads, gave a rousing rendition of the African woman's period story.  We laughed, we cried, we cringed a little … there was some blushing all around … and we laughed some more.  Who knew menstruation could be so much fun?
We had over 300 kits available for the day and handed out kits to everyone who attended.  This was a life-changing event, and more than 500 more women and girls have requested kits for themselves, which we hope someday to provide. The primary mission of Go and Do Likewise is education.  By supporting community projects such as the AFRIpads seminar, we help to provide stability needed to allow these girls to stay in school and offer opportunities for them to pursue higher knowledge and education.
Am I making a difference today, like I wanted to in my "small way" when this whole journey began? It's still only a drop in the bucket in the global scheme of things. And since the "whole world is going global," why not think big? But I will start by making my difference in this small, rural Kenyan village and see if my drop can turn into a ripple … a wave … pond … stream … oh, lovely water (a topic for another article).
You can make a difference today, and you don't even have to sacrifice your favorite shirt!
Education for girls in particular is an important element in solving poverty in rural Kenya. Learn how you can help by contacting us, or learn more about us here on our website.